Harare, Zimbabwe - Opposition and rights groups in Zimbabwe are bemoaning this week's passing of a so-called 'Patriotic Bill' by the lower house of parliament, which they say curtails several fundamental freedoms enshrined in the country's constitution.
Lawyers say if President Emmerson Mnangagwa signs the Criminal Law Code Amendment Bill into law, it will not stand in court because it is flagrantly unconstitutional.
Among other things, the bill would authorize penalties against people found 'willfully damaging the sovereignty and national interest of Zimbabwe.'
Kennedy Chokuda, clerk of Zimbabwe's parliament, said after the vote, 'It's done in the National Assembly, it's now going to the Senate chamber for further debate.'
Members of Zimbabwe's ruling Zanu-PF party support the bill, which sailed through the lower house. The senate chamber is dominated by Zanu-PF members.
Fadzayi Mahere, the spokeswoman for the main opposition party, the Citizens' Coalition for Change, talks to journalists outside Harare Magistrate Courts, May 23, 2023. (Columbus Mavhunga/ VOA)
Fadzayi Mahere, spokeswoman for the main opposition party, the Citizens' Coalition for Change, described the bill as 'dangerous and unconstitutional,' and said Zanu-PF is trying to gain an advantage in the August 23 general election.
'The bill violates sundry constitutional rights and freedoms including freedom of association, freedom of expression, political rights and others,' Mahere said. 'Zanu-PF has reduced our great nation into an outpost of tyranny. They are clearly in panic mode as we approach an election and on an unbridled crusade to close the democratic space completely in Zimbabwe.'
Mahere said Zanu-PF cannot win a free and fair election in Zimbabwe.
'So what we have seen is Zanu-PF retaliating with repressive legislation, with the weaponization of the law. Frankly, no amount of panic despotism by Zanu-PF will stand in the way of change whose time has come,' Mahere said.
ZANU-PF officials could not be reached for comment on the bill Friday.
Introducing the bill in parliament late last year, Ziyambi Ziyambi, Zimbabwe's justice minister, said the bill seeks to prohibit private citizens from making false statements or undermining the country, or acting as self-appointed ambassadors meeting foreign officials to undermine national interests.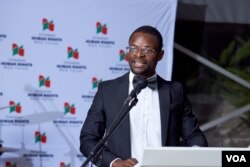 FILE - Musa Kika, a constitutional lawyer, speaks at a Zimbabwe Human Rights NGO Forum, in Harare, in February 2023. (Columbus Mavhunga/ VOA)
Musa Kika, a constitutional lawyer who heads the Zimbabwe Human Rights NGO Forum, said it will be unfortunate if Mnangagwa signs the bill into law.
'This is an unconstitutional law. It infringes on all sorts of civil and political rights that the constitution gives,' Kika said. 'In my estimation, this bill is the most draconian law that we have seen in independent Zimbabwe. If this law is [passed and signed], obviously it will be challenged in the court of law. If not all of it, then the significant part of it because the bill is manifestly and patently unconstitutional.'
It is not clear when - or if - President Mnangagwa, who is currently in Malawi, will sign the patriotic bill into law.